This past October, Beth Battaglino, RN-C and CEO of HealthyWomen, sat down with a group of trailblazing women in healthcare to share their respective expertise on uncomfortable, often taboo topics, that are rarely discussed in women's health today during the The Future Is Female virtual event. Even with a push for advancements, the field of women's health is due for a major transformation. Important topics such as pelvic pain and intimacy following cancer are often too difficult for many patients to discuss. The Future Is Female event was a step forward towards flipping the narrative in an effort to break down the barriers and establish an honest dialogue between women and their health care team.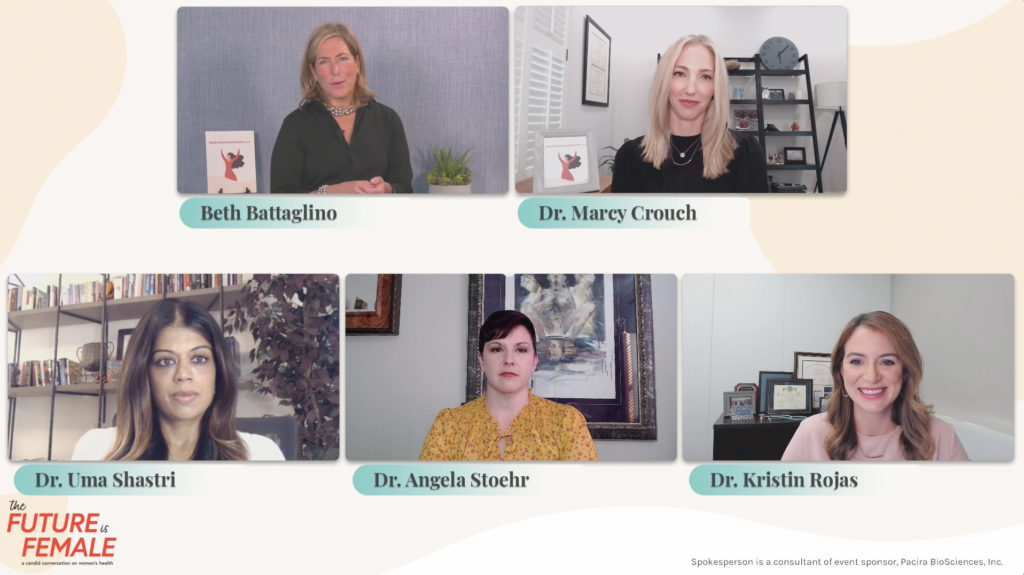 Attendees heard from several experts in the field, including pelvic floor physical therapist, Dr. Marcy Crouch, anesthesiologist, Dr. Uma Shastri, OB/GYN, Dr. Angie Stoehr, and breast oncological and gynecologic surgeon, Dr. Kristin Rojas. The conversation urged women to speak more confidently about their health and tackled issues ranging from intimacy after cancer to postpartum recovery including non-opioid options, and much more.
Media in attendance included Good Housekeeping, Marie Claire, CURE Magazine, Health, Mind Body Green, Well + Good, among others. The fireside chats allowed attendees to hear in an intimate setting about topics that are relevant to millions of women that aren't discussed nearly enough. Those who tuned in to the event were also able to engage with each speaker during a question-and-answer session, which many viewers took advantage of. Questions came rolling in, further demonstrating the urgent need for forums, like this event, in which to have open dialogue on these topics.
The content of each chat provided a new perspective for attendees to consider. Dr. Shastri spoke to the importance of women being their own health advocates, especially when it comes to awareness of non-opioid pain management options for a range of women's health surgeries, such as C-sections, hysterectomies, and more. For C-sections specifically, opioids can slow down a new mother's recovery and impact the bonding time they have with their newborn. Non-opioid options, on the other hand, can provide women an easier transition into motherhood and raise their expectations for what is possible after surgery.
Dr. Crouch tackled the topic of postpartum recovery and the various expectations put on mothers to rebound quickly, and often without proper education or resources on how to enhance recovery. Dr. Stoehr covered several aspects of sexual pain and pelvic health, and ways to address these issues with a doctor. Lastly, Dr. Rojas informed attendees about the prevalence of sexual dysfunction after cancer, and provided resources to help address intimacy after cancer given all the changes that women may undergo after their diagnosis.
Ultimately, when women are given the right tools and resources, they can accomplish exceptional things. To learn more about these topics, or to view an executive summary of the event, visit www.WeAreWomensHealth.com, and keep an eye out for more from The Future is Female initiative in 2022.
The event was sponsored by Pacira BioSciences, Inc. and speakers were consultants of Pacira.
PP-NP-US-1246