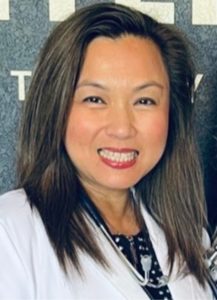 National Nurses Week is celebrated each year from May 6-12 to coincide with Florence Nightingale's birthday – the British nurse, social reformer, and statistician largely credited as the founder of modern nursing. Nurses play a critical role in patients' lives yet their contributions to patient safety and care often go unrecognized. From being the first and last point of contact for a patient, to providing emotional support, acting as advocates, and everything in between, nurses deserve to be celebrated for their dedicated and resilient spirits.
When it comes to patients who need surgery, nurses not only educate and care for patients before their procedure, but they also play an essential role in helping to support their postsurgical recovery. Lea Villadiego, MSN, APRN, FNP-C, has over 30 years of experience as a nurse and nurse practitioner working to provide patients with the best surgical experience possible. We spoke with her recently to discuss her approach to enhancing patient care, including the use of non-opioid options to manage pain after surgery.
1. What have been some of your most stand-out moments and learnings working as a nurse in pain management?
My work as a nurse has afforded me some amazing, challenging, eye-opening, and truly rewarding experiences. Being a part of the anesthesia team at the Texas Children's Pavilion for Women in Houston, TX, was a catalyst in a lot of my learning. Working with the OB/GYNs and our anesthesia team, I was able to help provide pain management for patients undergoing procedures such as hysterectomies and C-sections. Through this, I was able to get involved and gain experience with "multimodal" pain management protocols early on – even before the term "multimodal" became widespread. Multimodal methods allow us to incorporate a range of pain management options, including non-opioids, before, during, and after surgery to achieve an enhanced pain management experience for patients that best fits their individual needs.
2. Can you explain how your team implemented this new pain management protocol and how it impacted your patients' recovery experience?
While at the practice, I was fortunate to work with Dr. Wycke Baker – the Chief of Anesthesia, who embraced innovative techniques and technologies. We had learned about a non-opioid, long-acting numbing medication that was injected during surgery to provide pain relief after various women's health surgeries, including C-sections. When we first started using this option, we noticed that our patients' pain was well-managed for several days and their recovery experience was much better. Together, we decided to incorporate this non-opioid into our multimodal pain management approach and even published a study that demonstrated the benefits and improved patient experiences stemming from the protocol for C-section patients.
Our efforts included extensive education to all teams throughout the continuum of care, including answering questions around our observations, methods, and outcomes, to ensure everyone was on board. Buy-in from my colleagues in nursing was extremely pertinent. Given that these nurses are with the patients 24/7 and can speak to the visible immediate and long-term benefits they observe, getting my fellow nurses on board helped streamline the process of approval to use this method throughout the hospital.
3. What are some of the patient benefits you were seeing from this non-opioid option that pushed you to continue?
As the pain nurse of the Acute Pain Service, I would often be the first to visit C-section patients the day after their procedure, and I closely followed all patients that received this pain management approach. The benefits were eye opening. Patients appeared more alert and were sitting up in bed sooner than we had previously seen. New moms were not requesting opioids and pain management reports improved overall. This decreased many of the side effects we typically see with opioids, such as constipation, nausea, dizziness, etc.
We observed a difference in mothers being able to bond with their newborn, breast feed, and provide skin to skin contact, as well as a reduced length of stay allowing mothers to get home with their babies sooner. As Dr. Baker and I scanned each individual patient's chart, we continued to consistently see the differences and improvements for patients that this type of protocol provided. This was all the motivation we needed to continue our efforts.
4. What would you tell patients who may need surgery in the future?
Ask about your pain management options. Talk to your surgeon, nurse, pain management specialist – there are non-opioid options available that can improve upon outdated approaches and reduce opioid prescribing, even for major surgeries such as C-sections or hysterectomies, joint replacements, etc. and set reasonable pain management expectations.
It was moving to see how our techniques were positively impacting patients and their families. Do your research, and don't be afraid to have open conversations with your health care providers about your recovery goals. There are quick and easy discussion guides available to help you discuss non-opioid options with your doctors. It can make all the difference when it comes to recovery!
Thank you, Lea, for speaking with us and providing your valuable insights into the world of being a pain management nurse. The work you're doing on behalf of patients will continue to have a lasting impact. We recognize you, along with the entire nursing community, this National Nurses Week and beyond!
PP-NP-US-1315